Which canned tuna product is best?
By: Lisa Costa Bir, Naturopath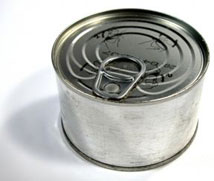 I must admit that while I gag and turn my nose up at chicken in a can, I do find myself purchasing canned fish on a regular basis. And you only have to park your trolley in the tinned fish aisle of any supermarket to see that I'm not alone, canned tuna is very popular. Australians eat their way through a staggering $300 million of it every year, despite the fact that canned tuna doesn't contain the omega-3 fatty acids of canned salmon or sardines.

A quick look at the shelves and you'll see that we are spoilt for choice when it comes to canned tuna. Given that they are mostly all priced similarly, how do we know which is the best? Well thanks to Greenpeace, choosing canned tuna has become a whole lot easier, particularly if you don't want to contribute to the endangerment of the overfished Yellowfin tuna - a species in need of conservation measures.

Just before May last year, Greenpeace published a 'Canned Tuna Guide'. Brands were marked according to the following criteria:


Sustainability policy


Method of fishing used


Species fished


Accuracy of labeling


Support for marine reserves and equitable tuna policies


And traceability of product; the last of which is very important as according to Greenpeace, just under 50% of the product is derived from illegal fishing activity in the Pacific, compounding the overfishing crisis.


Here's a brief summary of what Greenpeace found:



Top 3 tuna rankers



Rank 1: Fish 4 Ever
Score: 89/100
Sitting on the top of the list is the Fish 4 Ever brand. You may not have seen this brand at the supermarket but it is available in many health food stores so do try and find it. Why did it get first place? Fish 4 Ever have been instrumental in using a selective fishing method called 'pole and line'. This means tuna are caught on a hand-held pole and line one by one. It avoids the wasteful catch and death of turtles, sharks and other endangered species. Fish 4 Ever also actively promote established sustainable tuna fisheries and sustainable tuna in political, industry and market forums. They support local coastal fisheries and pay a premium price to local fishers. Fish 4 Ever has a publicly available sustainable and equitable sourcing policy and ensures it is implemented.

The only downside with Fish 4 Ever tuna is that it is more expensive compared to the bigger brands of tuna that you will find stocked in the supermarket. On the other hand, you might consider the fact that you're paying a bit more but contributing to a better environment and the preservation of our marine life.

Rank 2: Safcol
Score: 71/100
Second on the list, Safcol is one of my favourite brands. They get top marks for being the first Australian company to commit to 100% pole and line caught Skipjack tuna. Safcol has dropped purse seine nets completely, where a vessel encircles a school of fish and then draws the net together like a purse. When this method is used, endangered species such as Yellowfin and Bigeye tunas (including juveniles) may be caught in the catch. Safcol also publicly promotes sustainable fishing methods and the conservation of overfished tuna species like Yellowfin.

Rank 3. Coles
Score: 64/100
They've just dropped the artificial colours, they only have hormone free beef, now another reason to shop at Coles is that they received the number 3 rank from Greenpeace for their own-brand tuna. Coles has shown leadership by making significant improvements to the sustainability of its house-brand tuna. They do not sell unsustainable Yellowfin tuna, their ability to trace their product is excellent, as is their labeling. For them to do even better they need to drop purse seine vessels using fishing aggregation devices (FADs) and instead use pole and line methods across their entire brand. And news just in, Coles have announced that they will be the first Aussie supermarket to apply a sustainable seafood message to all fresh fish in stores so that anyone that shops there has the option of sustainability when shopping for seafood.



Need to improve:



Rank 4. John West
Score: 60/100
'John West...the best'? Not in my opinion. Since Greenpeace released their ranking system, John West have released a 'pole and line range'. This is marketed as a premium product using skipjack tuna, however while this is a valiant effort, John West still uses the purse seine method to catch the rest of their tuna. They do, however, have a commitment that all John West Australian products will be sustainable by 2015.

Rank 5. Greenseas
Score: 59/100
As with John West, Greenseas uses the purse seine method to catch tuna that results in other marine life and endangered species of tuna being killed. As a plus, Greenseas source 100% Skipjack tuna from the Western Central Pacific Ocean and don't source from high seas pockets. Like John West, Greenseas has pledged to no longer use destructive fishing methods by 2015.

Rank 6: Aldi
Score: 58/100
At the time of the ranking, Greenpeace found that while Aldi plans to offer a range of sustainable pole and line Skipjack tuna it still sells overfished Yellowfin tuna and relies on destructive fishing methods for the majority of its products.

Rank 7: IGA
Score: 55/100
At the time of the ranking, IGA continued to purchase the majority of their range from purse seine vessels that use FADs, resulting in the death of other marine life and young tuna. A recent look at their website shows that they will be introducing an IGA Signature Pole & Line Caught range but they will not be phasing out their purse seine vessel range. Greenpeace found IGA's online sustainability policy to be full of misinformation but in their favour they are sourcing 100% Skipjack tuna from the Western Central Pacific Oceans. To their credit, a few IGA stores already stock Australia's most sustainable tuna products, Fish 4 Ever, so if you shop at IGA purchase this instead.

Rank 8: Sirena
Score: 52/100
At the time of the ranking, Greenpeace observed that Sirena traded primarily in overfished yellowfin tuna. Like many of the bottom-ranked tuna brands they also continue to source most of their range from purse seine vessels using FADs. Sirena also make misleading claims about sourcing fish from local producers.



Bottom of the list:



Rank 9: Woolworths
Score: 12/100
According to the Greenpeace article, Woolworths say that they have a sustainable seafood policy, but this does not actually include tinned tuna, thus providing misleading and inaccurate information for customers. In their favour, Woolworths offers a pole and line caught Albacore product under its house brand, however the same cannot be said for the rest of their range, which is still caught through destructive methods that result in the death of sharks and other marine life. Woolworths has no public policy that ensures sustainably or equitably sourced canned tuna. According to the Greenpeace article, Woolworth will not guarantee that they won't source from Pacific Commons conservation areas.

Rank 10: Sole Mare
Score: 5/100
On the bottom of the list is the Sole Mare brand. Their product consists entirely of Yellowfin tuna. Sole Mare does not provide any information on fishing method used or catch area. Clearly there is lots of room for improvement here.



What can you do?



If we want to make sure that tuna remains part of our diet (as well as affordable) we must ensure to support brands such as Fish 4 Ever and Safcol instead of the brands ranked on the bottom. Hopefully this will encourage the poorly performing brands to change their methods. Read labels and ask your supermarket to stock the brands at the top of the list, if they don't already. Remember: consumer demand drives sales.

As always, I love to read your comments, please leave them here.
Comments
Patricia
Feb 29 2012 6:57PM
thank you. this is very helpful.
Mim
Feb 29 2012 7:07PM
Lisa, love your articles... but my understanding was the Blue fin tuna was the one under threat, and yellow fin was the more environmentally correct option... but it is confusing.
Lisa Costa Bir
Feb 29 2012 7:20PM
Hi Mim, Thanks for your comment. Bluefin is sadly critically endangered and yellowfin is following closely (not as badly as Bluefin but bad enough for companies to stop using it). The tuna of choice is now skipjack. Some good sites where you can get more info are www.tuna.com.au & http://www.greenpeace.org/australia/en/what-we-do/oceans/Take-action/canned-tuna-guide/ as well as good old wikipedia! Hope this helps.
Christine
Feb 29 2012 8:12PM
Firstly "Greenpeace" is a contradiction in terms. If you are aware of their activities they do nothing peacefully. Their protest behaviour is appalling and an embarrassment. There's nothing peaceful about their activites.
Greeseas and John West Tuna are produced by Tuna Processors. SAFCOL was formerly South Australian Fishermans Co-operative Limited, but unfortunately it's gone to Thailand.
Most of the tuna is now processed in Thailand or Indonesia.
The only real Aussie tuna is the large blue fin tuna farmed for sashimi market.
I buy Coles brand tuna. After all, it's much of a muchness. Yellow fin or big eye.
The Austalian fishing industry is working very hard on sustainability of their industry. It's in their best interests for the future.
It's other countries like Japan which over-fish and destroy fisheries.
Tracy
Feb 29 2012 10:20PM
Thanks so much for this highly informative article. I was shocked to find my favourite tuna will no longer be on my shopping list, and I thought I was an informed shopper! I really look forward to your Food Coach emails! x Tracy
Vanessa
Mar 1 2012 7:25AM
I find this a very confusing area - a few weeks ago Judy's article on supermarket shopping rated Sirena as her top brand from the supermarket, claiming sustainable fishing methods, but here they are ranked pretty low down the scale....
Fiona
Mar 1 2012 7:27AM
Thanks Lisa, always wondered about tuna and actually how healthy and self sustainable it actually is?? I always read the FC articles in fact I file them so when topics come up in conversation (among clients and friends) I have some good info to give them....thanks again never miss a read! Fiona
Lisa Costa Bir
Mar 1 2012 8:59AM
Hi Vanessa, Judy wasn't aware about Sirena using destructive methods of fishing and when it was pointed out to her by a reader that this might be the case, she asked me to find out more. I am really grateful to Greenpeace for putting out this literature as it provides us the customer with information we need to make a more informed choice and it also puts pressure on companies to use more sustainable methods. After Greenpeaces ranking system came out, a number of companies improved their standards. In the U.K. most supermarkets have phased out using yellowfin tuna yet Australia lags behind.
Jill
Mar 1 2012 10:59AM
I've been a Fish4Ever fan for ages, and only buy their products. The price is not as important as the principle. And it's not as if we need to eat tuna every day. I get so cross with the self-righteous high-protein brigade, esp in the fitness community, scoffing endless cans of unsustainable tuna in order to keep their carb count low. This information deserves to be widely disseminated. Shame you don't have a Twitter button!
Lisa Costa Bir
Mar 1 2012 1:43PM
If you're in Sydney you may like to go to Fish & Co - a sustainble seafood cafe http://www.fishandco.com.au/
DEBRA
Mar 1 2012 3:13PM
Sirena put out a product that has basil or rosemary infused tuna and they can't keep it on the shelves. It is delicious. Not being happy with the way Sirena has been rated in this survey, I might have to start infusing my own tuna - or take note other brands. It's a winner.
len
Mar 1 2012 4:32PM
i love tuna in a can ,and allways buy john wests chilli and cracked pepper,i might just have to change now to safcol i dont know this brand ,but here goes .thanks food coach
Phillip
Mar 4 2012 9:22PM
Please inform your readership that you can't purchase a can of tuna off the supermarket shelves that is not sourced from Thailand.Please also remember that there is a huge difference between the words 'MADE IN',and 'PRODUCT OF'.We used to buy John West,however now,sadly,we buy no tuna at all;i have spoken to the company,however no more Port Lincoln tuna.Try to remember the so called Lima Agreement,the 'level playing field',but also remember who the only 'mugs' are playing by the rules.
Julian
Mar 8 2012 1:02PM
I read of a survey taken not too long back for the biggest selling item in supermarkets in different suburbs. The biggest seller in the Toorak area was Sirena tuna. Ummm!
Diane
Mar 9 2012 9:08PM
I eat tuna as a source of Omega 3 - so your comment on tinned tuna not containing any was of great concern. Can you please explain?
John West print "great source of Omega 3" on the can. I buy Safcol.
Thank you
Diane
jayne
Mar 9 2012 9:53PM
I have heard that tuna is aproduct we should be limiting in our diet because it is heavy with mercury. Do you have any information regarding this??
Lisa Costa Bir
Mar 12 2012 2:02PM
Diane-I don't think that tuna is a particularly great source of omega-3 fatty acids; salmon and sardines contain much more. It would be interesting to call Safcol and ask about the difference in omega-3 fatty acids btw their tuna product and their salmon.

Jayne-Tuna does contain traceable levels of mercury & women who are pregnant are advised not to eat it frequently so perhaps we should all follow the same advice? Calling Safcol or another tuna company and asking them about mercury content in their fish is probably best as each manufacturer will have different standards.
Add your comment
To post comments you need to be a member of The Food Coach club. Membership is free, so click here to begin posting!
If you are already registered, or are already a member of The Food Coach Club, simply enter your username and password below to begin commenting.
«Forgotten your password? Click here»