Slow down this autumn with a slow cooker!
By: Lisa Costa Bir, Naturopath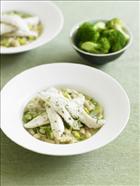 Slow cookers were extremely popular many years ago, and like many great ideas from the past, they are making a comeback. And having taken sole possession of a slow cooker my partner received as a gift a few months ago, I can see why.
As the colder weather has kicked in, and I have been lolling on the couch sipping on warm tea and devouring Oprah, my slow cooker has been getting a considerable work out (all of which I have slyly taken credit for). Together, my slow cooker and I have tried and tested out soups, stocks, curries, tagines, casseroles, stews, roasts - even ribs - and all have turned out fantastic (all with absolute minimal effort on my part).

Slow cooking - the perfect partner in crime for the time poor
One of the things most people feel is that they are time poor. The feedback I get from my clients is that they enjoy cooking but by the time they come back from work, or picking up the kids from after-school activities, the last thing they feel like doing is cooking a gourmet meal. This may explain our love for take-away food, and the highest growing commodity in supermarkets: pre-packaged meals - which, while convenient, are pretty much always substandard in terms of nutrition.

If the above time- or energy-poor scenario rings a bell with you, let me highlight the merits of the humble slow cooker.

Probably the best thing the slow cooker has got going for it is the lack of effort and work involved for you in the cooking process. All you have to do is flick the switch on, throw in the ingredients, set the temperature to high or low and leave it to do 'its thing' for 6-8 hours. This leaves you with plenty of time to do 'your thing' … whether it be ironing, washing up, writing articles or something more exciting like a manicure! Occasionally during my snack break or lunch break, I will come in and give whatever is in the slow cooker a stir and taste, but even this isn't a necessity and actually opening the lid too often causes the temperature to drop, which extends the cooking time.

How many times have you left something on the stove top and gone to do something else and then forgotten about your cooking creation? The next thing you know, the smoke alarm is going off and your main course has vanished into a burnt, charred mess encrusted to the pan. How often have you put a piece of meat in the oven only to find it has become dried out and leathery? This can almost never happen with the slow cooker. The low temperature of slow cooking devices makes it almost impossible to burn food, even if it is cooked for an hour too long. I wouldn't recommend the following, because it's not safe, but I have even gone to sleep, forgetting to turn off the slow cooker and woken up 8 hours later to find the house smelling very aromatic and the food in the slow cooker (and more importantly the house) not even burnt.

Saving time and money
Slow cookers are the perfect winter accessory: basically anything you would normally cook for a couple of hours on the stove or in the oven generally fares very well in a slow cooker. Slow cookers can also save you money as you can use cheaper cuts of meat like lamb shanks; the sinews in this sort of meat break down when cooked over several hours, leaving you with tender meat that slides off the bone. I've also noticed that meals that I have made in the slow cooker tend to stretch further.
If you do cook a fatty cut of meat such as lamb shanks, you may notice that lots of fat comes out of the meat. I refrigerate the pot overnight and the coldness of the fridge sets the fat, which sit on top of the whole dish. Then the next day I skim of all the fat which has set on top and voila, you've lowered the saturated fat content of your meal.

Is food cooked in a slow cooker less nutritious?
As many of you know, heat and the length of time a vegetable is cooked may impact its final nutritional status. As an example we can look at the water-soluble vitamin C. As it is water-soluble it typically leaches into the cooking water when cooking a vitamin C rich veggie such as broccoli. Slow cookers cook food for about 6-8 hours at a constant temperature therefore because of this one may assume that the nutritional content of the slow cooker meal may not be as good as a meal containing veggies that would have been otherwise been served raw or stir fried.
In my opinion, as the slow cooker pot is sealed one can assume that as long as you consume the sauce/soup/stock water produced in the cooking process, you will still enjoy most of the nutritional benefits. If you are concerned about nutrient loss you could add the vegetables closer to the end of cooking or you may also prefer to serve extra steamed or stir fried veggies as a side. In any case, one can safely assume a slow cooker meal is likely to be more nutritious than a meal that has been fried or boiled.

I have rarely found the need to use stock as I find the slow cooking method usually results in food with an intense flavour…however I do use a lot of herbs, a good pinch or two of good quality salt such as Celtic sea salt and occasionally a swig of red wine if I am making lamb shanks or a casserole. If you do want to use a stock make sure you use a premium stock that is low in sodium. Miso paste can also be used as a flavour base for soups and the like, however I would always add this once my dish has been cooked as the beneficial bacteria in miso are typically destroyed by heat.

What are you experiences with slow cookers? Do you have any recipes or tips you would like to share?
Comments
toni
Jun 5 2011 4:41PM
I love the convenience of my slow cooker and my fave recipe is pumpkin soup.
Grace
Oct 18 2012 7:12PM
I too love slow cooking - I have never been without a cooker for the last 35 years!!

However there is no category for searching for these types of recipes in the recipe area of your site. Can this be added soon please? I am a fan of the recipe area and find it very, very useful - I recommend it to others frequently.
Add your comment
To post comments you need to be a member of The Food Coach club. Membership is free, so click here to begin posting!
If you are already registered, or are already a member of The Food Coach Club, simply enter your username and password below to begin commenting.
«Forgotten your password? Click here»