Is your portion size making you fat?
By: Lisa Costa Bir, Naturopath & Food Coach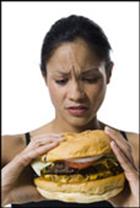 Are you guilty of 'portion distortion'? I know I certainly am, in fact I did it last night! Not merely a catchy phrase, 'portion distortion' refers to the practice of large food portion sizes being perceived as appropriate amounts to eat at a single eating occasion, so in my scenario eating 4 slices of pizza instead of the 2 slices I know to constitute a regular serving.

Portion distortion is all around us. A well-known coffee shop in Australia serves up Fettuccine Marinara at a whopping 4947KJ. Although designed to be a meal for one, from a nutritional perspective in terms of kilojoules, fat, protein and sodium this meal could really feed between 2-3 people. Another well known coffee chain offers a Ceasar salad, with 4216Kj. That's half the recommended daily energy intake in one meal. There's no reason to shame either of these outlets by naming them because they are not alone in their approach. Scientific papers reveal that portion sizes of foods available in supermarkets, fast food establishments and even our homes have grown significantly over the past few decades.
Whilst many of us typically perceive these larger portions to be 'generous' and/or 'good value for money', from a health perspective we really need to reconsider whether a bigger portion is truly real value.

OBESITY & SALT INTAKE
The Australian Bureau of Statistics reveals that more then 50% of adults and up to 33% of children in Australia are considered overweight or obese. Interestingly, clinical reviews reveal that the incidence of obesity/overweight has increased with growing portion sizes of individually packaged and ready-to-eat prepared foods. It doesn't take rocket science to explain why.
With an increase in portion size, you also get an increase in kilojoules, and probably saturated fat and salt too. Proof of this overconsumption was seen in a study where male and female participants were given different-sized bags of potato chips to snack on. Over a period of 5 days they found, irrespective of hunger, the bigger the bag of chips, the more chips they ate.

Researchers have also found that over consumption of calorie/kilojoule content during a single meal, does not (unfortunately) mean that the average person will compensate by eating lightly the next day. In fact, one study showed that the average increase in energy as a result of individuals consuming 50% larger portions did not decline over a period of eleven days, and resulted in an increase of approximately 4600 calories - and 0.6g of additional body fat! Is this the fault of the consumer or could the fault maybe lie with the food manufacturers/ restaurants/ supermarkets producing foods that are three to four times larger than the recommended portion size, thus allowing consumers to perceive that these larger portions are really standard portions?

WHAT CONSTITUTES A PORTION?
With the variation in portion sizes across the country, the average person could be forgiven for being confused as to what really constitutes a normal serving size so let's take a quick look at some standard serving sizes of some common foods:


| | |
| --- | --- |
| One Serving of: | Looks like this |
| Cheese | A small matchbox |
| Cooked brown rice | Half a cup |
| Weetbix | 2 Weetbix biscuits |
| Grapes | 20 grapes |
| Butter | The top portion of your thumb |
| Meat | About the size of your palm |
| Potato | The size of a computer mouse |
| Pizza | 2 thin slices |
| Bread | 2 slices |
| Muesli | Half a cup |
| Pumpkin | One cup |
| Ice cream | Two small scoops |


IS CALORIE COUNTING THE ANSWER?
Despite my consistent mention of calories in this article, in my clinic, due to my own past obsession with calorie counting I encourage my patients to maintain a healthy relationship with food and not get too caught up in counting calories and fat grams. However, in saying this, I do think that it is a useful exercise to compare one's usual portion sizes with the actual recommended portion size found on nutritional panels, not only because many people tend to overestimate serving sizes but also because many manufacturers' labels can be extremely deceptive.

HOW TO REDUCE YOUR PORTION SIZE
Aside from carefully reading nutritional panels, one simple way in which to reduce your portion size (if you generally over consume) is to use smaller vessels (i.e. reduce the size of the plates, bowls, spoons and glasses that you typically use). Also helpful, though more expensive, is purchasing smaller portion controlled packs, for example buying a single serve of yogurt instead of a 500g family tub. Even better is to share a big portion with a friend or save the rest for later.

It is important to consider that our stomachs are only the size of a closed fist (though of course, it can stretch). Compare this with how much you load onto your plate each day and it becomes clear that our stomach is not designed to be pushed to the limits with oversized portions several times a day, on a regular basis.
Next time you get served or you serve yourself an overly generous portion, visually try to "undistort" the portion and question yourself:

Is this a normal sized portion or is it oversize?

Is it appropriate to eat the whole thing on a single eating occasion or is it not?

© Lisa Costa Bir, 2010
Lisa consults privately at her practice in Caringbah, Sydney. To book an appointment call 0404 070 142 or email at lisa.beinbalance@gmail.com

Get regular updates on twitter by following Lisa at http://twitter.com/NutritionLISA.
Comments
Sue
Nov 14 2010 11:28AM
Hi Guys,

This is super advice. We reckon that portion size is a far bigger issue than food type when we consider excess overweight. It amazes us that we have never seen a reference to portion size when we are discussing tight family budgets. It would be reasonable to assume that if we overeat by 25% then our food bill could be reduced by 25%. Food for thought.
Just a point on your suggestion of buying single portion sizes. Not a good move when we consider packaging and the resultant waste.
Thanks, we enjoy your thought provoking articles.
Sue Henderson.
Jemima
Aug 28 2011 9:48PM
Sue, I agree with your point on single portions in relation to waste.
Something my mother does is buy chicken breast in bulk, and once home, put each breast in separate bags and freeze, that way, if everyone's home for dinner, or only a few, she can alter the amount she defrosts, so she doesn't cook too much. Granted, this is a little more difficult with yogurt, with finding containers that wont leak, but it is possible.
Roxana
May 30 2012 9:48AM
Great article! I wonder, does strict portion control also apply to fresh produce, particularly fruit and vegetables? Would it also not be best to listen to one's body for satiation rather than adhering to the strict guidelines of another? Everyone has different energy needs, after all.
Lisa Costa Bir
May 30 2012 9:54PM
Hi Roxana, Thank you :) In reply... In my clinic it is very rare to find someone that overeats vegetables and fruit, i usually find that people are under eating these foods so i don't think that strict portion control with regards to fruit and veggies would be relevant- the more fresh fruit and veggies one can eat, the better in my opinion.

You're completely right that it would be best to listen to ones own body for satiation rather then guidelines however most people (including me!) find this is very hard so it's great to have guidelines on packets which give us a guide to how many servings are in a packet. but yes, the more we can check in with ourselves and not mindlessly eat, the better...
Add your comment
To post comments you need to be a member of The Food Coach club. Membership is free, so click here to begin posting!
If you are already registered, or are already a member of The Food Coach Club, simply enter your username and password below to begin commenting.
«Forgotten your password? Click here»