No time to exercise? Why not try the Speed Workout
By: Dr. Joanna McMillan-Price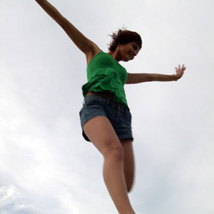 No time to exercise? This is undoubtedly the most common excuse for not exercising. But that's the thing - it's an excuse, not a barrier. You don't need much time to exercise if you're smart about the way you move. Essentially, there are four things you can change: frequency, duration, intensity and type.

Changing the type of exercise you do is certainly a good idea in that it reduces the chances of overuse injuries, continually challenges your body in different ways and stops you from getting bored with the same old routine. However, if you want to maximise the amount of energy you expend to control your weight and improve your health, the first three factors are what you need to consider.

Think of the total number of kilojoules you expend during exercise as the product of frequency x duration x intensity. In other words, to maximise fat burning and kilojoules spent you can (a) work out more often, (b) make each exercise session longer, or (c) make your workout harder by increasing the intensity. Walking is a great way to burn fat - if you have at least an hour every day to do it. But if you are short on time (who isn't?), make your walk tougher by walking up hills or jogging in parts to make you fitter, faster. The bottom line is the less time you have for a workout, the harder the session should be. Our advice is to work as hard as you can for the time you have.

To help you gauge the intensity of your workout, you can use what's called rate of perceived exertion (RPE). Just as a doctor might ask you to rate your pain on a scale of 1-10, PRE asks you to rate how hard you are working on a similar scale. Finally, you'll need a wristwatch with a timer or a stopwatch to time each section of your workout. The wonderful thing about RPE is it works for athletes and complete beginners - it's all down to how you feel. This means an RPE of 8 may be from fast running for some, but to novice exercisers this may be brisk walking. See our table (below) for more information. We have devised this speed workout to give you a challenging, intense workout in
30 minutes. You don't need to go to the gym. You can do this from home or your office (or anywhere you happen to be, making it useful even on holidays). Spend eight minutes warming up (working at an RPE level of 3-5), 12 minutes exercising more intensely (at an RPE level of 6-9), then 10 minutes strengthening, toning and stretching in four exercises.

Phase 1: The warm-up
Start walking at an RPE of about 3. After a couple of minutes as you start to feel warm, increase your pace, and again after another couple of minutes until you are on about level 5. That is, you should be starting to sweat and feel your breathing and heart rate increasing. Maintain this pace to the eight-minute mark.

Phase 2: Get intense
When you hit the eight-minute mark, pick up your pace dramatically to an RPE of about 8 or 9 - you couldn't keep this up for more than a few minutes. Maintain for two minutes.
Use the next two minutes to recover while still working at an RPE of about 6 (i.e. your pace should still be above warm-up level). Repeat this cycle a further two times, i.e. three intervals lasting 12 minutes in total. After the last two-minute recovery, move into phase three.

Phase 3: Strengthen, tone and stretch
As you have already worked your legs hard during your walk and/or run, the focus here is on upper body and core (including abdominal) strength.

How Hard Are You Working? Test your perceived exertion

| | | |
| --- | --- | --- |
| Level | Exertion | How i Feel |
| 1 | None | Relaxed and sitting comfortably |
| 2 | Minimal | I could do this all day |
| 3 | Minimal | Getting warmer |
| 4 | Moderate | Starting to sweat and can feel my heart rate increasing but feeling good. I could do this for a while. |
| 5 | Moderate | Sweating, breathing harder but still able to talk. |
| 6 | Strong | Can still talk but getting a little breathless. |
| 7 | Strong | Breathing and sweating hard, this is getting tough! |
| 8 | Very strong | Could no longer hold a conversation. Can only keep this up for a very short time. |
| 9 | Very, very strong | My legs feel heavy, I'm gasping for air and can only last a few seconds. |
| 10 | Maximal | Absolutely awful! I have to slow down. |


Bad knees? Tricky feet?
Getting fit is sometimes not as easy as it sounds and often the thing that will stop you is not your lack of fitness but a flare-up of old knee or foot problems. This can be really frustrating. If you find even brisk walking on the flat stirs you up, try to work in some gentle hills to get your heart rate up (and stay on the grass rather than the road.) Another alternative is a mini trampoline in the backyard to help decrease the shock absorption. If that is still terrible, try some jogging on the spot in a pool. This lets gravity take the load off your joints but still lets you work on your RPE.
Comments
Anna
Aug 5 2010 9:50PM
Do you have any advice for exercises which can be done during phase 3?
sheri
Aug 9 2010 6:19PM
For Phase 3 - 1. Push ups, leaving knees & below on the ground. Hold push ups at different heights for extra strength. 2. Arm extensions and raises with weights. 3. Star jumps with light weights in hands.
Dee
Oct 19 2010 11:31AM
Are there any suggestions for exercises (instead of walking) if I can not put much pressure on my left foot due to injury?
Judy
Oct 20 2010 1:27PM
Swimming is a great exercise that placed minimal stress on the joints. Try and change your stroke to work various muscles in your arms and time yourself with the aim to continuously improve on your last result. That way you will build muscle strength and cardiovascular fitness.
andrew
Oct 27 2010 5:19PM
is there any advise on types of exercise for a person withpoor lower leg circulation.
Liz
Apr 9 2011 2:26PM
Hi I have diabetes and need to have a good diet planned out could you please plan one for me pls.
Add your comment
To post comments you need to be a member of The Food Coach club. Membership is free, so click here to begin posting!
If you are already registered, or are already a member of The Food Coach Club, simply enter your username and password below to begin commenting.
«Forgotten your password? Click here»