When is Food not Food?
By: Craig Harper, Australia's leading Motivational Speaker and Educator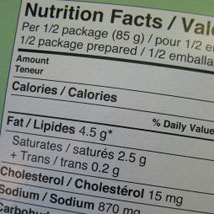 Gourmet (adj.): of or characteristic of a gourmet, especially involving or purporting to involve high-quality or exotic ingredients and skilled preparation.

Yesterday I flew to Sydney for a speaking gig. As I do. Anyway, there I was minding my own business and listening to some tunes on my i-Thingy when a flight attendant offered me a complimentary lunch. Now, being the ex-fat kid with food issues, I'm not really given to eating plane food but when the lovely Amanda informed mildly-hungry me that it was a 'healthy gourmet wrap', how could I refuse?

Maybe if Amanda was Brian, I would have.

Nonetheless, it promptly arrived on my tray table and sure enough 'Gourmet Wrap' was emblazoned across the front of my soon-to-be lunch. I read the front of the wrapper and learned that I was about to consume an egg, mayonnaise and parsley wrap.

Or was I?

Certainly not my first choice of lunches but it was relatively small, came recommended by the lovely Amanda, I was peckish and it was, after all, gourmet (the clincher). And who doesn't want a little mid-flight gourmet?

Then I made my way to the little nutrition label on the back.

I instantly became less enthusiastic and decidedly more nervous about my healthy lunch. Rightly or wrongly, I assumed that my egg, mayo and parsley wrap would consist of egg, mayo, parsley and… a wrap. Maybe a little salt.

Perhaps a herb or two.

But nothing prepared me for the extensive list of food acids, preservatives, thickeners, colours, salts and additives (okay, chemicals) that I would be required to consume if I actually wanted to eat my gourmet wrap. All of a sudden my commitment (to the wrap and Amanda) began to waver. In order for me to follow through, I would have to willingly put numerous substances with weird names and numbers that I had never heard of, into my body.

I think my faves were: thickeners 1450, 1442 and 415, food acids 297 and 330, mineral salts 450, 500 and 341 (who knew?), preservative 282 and colour 160a.

Good ol' 160a.

Now, unless 'gourmet' is a euphemism for 'toxic shit', I'm pretty confident that all those numbers and chemicals don't add up to fine dining. And not surprisingly, I can't tell you what my free meal tasted like.

Have you had an experience where you've been served food that's not really food? Leave your comment here.

© Craig Harper
P: 0413 244 614 | E: info@craigharper.com.au|
www.craigharper.com.au
http://twitter.com/#!/craigharper
Craig is the author of a new childrens book The Angry Ant to read more about it or purchase it click here
Comments
Ros
Aug 16 2012 12:16PM
My daugher had a recent similar experience. She purchased baby custard, made a reputable maker of dairy products, for her 7 month old daughter. After a discussion with her about how easy it was to make egg custrad at home, she read the label of the custard. there was a massive list of chemicals and additives, and to her total surprise and disgust no egg and no dairy products. How can the manufacturer label this as baby custard when it fact it is s toxic mix of chemicals! She threw the other unopened tubs out and has sworn to carefully read labels before buying any foods for bub!
Ross
Aug 16 2012 5:11PM
Working in a food-related industry, I am bombarded with the word 'gourmet'. Every second product we are offered declares itself thus. I am yet to figure out how to distinguish between gourmet and regular. What I do find is that most products designed to last are loaded with additives and other things I am unwilling to offer our customers.
Add your comment
To post comments you need to be a member of The Food Coach club. Membership is free, so click here to begin posting!
If you are already registered, or are already a member of The Food Coach Club, simply enter your username and password below to begin commenting.
«Forgotten your password? Click here»