How to choose a healthy soup
By: Lisa Costa Bir, Naturopath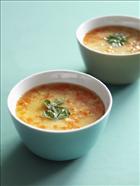 There's not much that beats a big bowl of soup on a cold night. Not only is it a great winter warmer, numerous studies have also shown that eating soup can have several health benefits. A bowl of soup before your main meal can increase 'satiety', the sensation of feeling full and satisfied. A bowl of soup can also help to reduce your overall calorie intake for the day, making it a great tool for weight loss (in one study, students given a bowl of soup before their main meal ate 20% less calories than those that didn't have the soup). Other research has shown that a bowl of chicken soup (the fresh home-made kind) is associated with improved ability of the immune system's white blood cells to fight off invaders.

With all these reported benefits it would be easy to think that all soup is 'healthy', however this is not the case. Some of the soups at the supermarket are not much better than salt-laden water with a few soggy vegetables thrown in for good measure. Here are my tips for which soups to enjoy and which ones to avoid.

1. Packets or sachets of instant soups such as cup a soup

In my teens, cup a soups were a favourite due to their easy preparation and their long expiry dates. Fast-forward 12 years, after my studies in nutrition and I doubt a cup a soup will ever touch my lips again, why? Well it's very hard to find anything health-promoting in them. While the majority of cup a soups flaunt the fact that they are low in fat, they are definitely not low in sodium. The average cup a soup contains 600-1000 milligrams of sodium, about half your recommended sodium intake for the day.

Many of the labels on these types of soups are misleading: for example, one would rightly expect there to be real chicken in Country Cups Chicken & Corn Noodle soup. Wrong. If you read the (very) small print you will see that it is 'flavoured soup'. The closest thing to chicken in it is 0.7% of chicken meat powder. It also contains numerous other ingredients that you wouldn't find in homemade soup : beverage whitener, mineral salts (340, 451), emulsifiers, anti-caking agents, sugar, flavour enhancers 621, 635 and colour 160b. It's not just this brand. Continental's Roast -flavoured chicken soup contains no chicken but it does contain food acid, flavour enhancers, hydrolysed corn protein and colours such as caramel IV.

The best brand by far in this category from an ingredient perspective is the La Zuppa range which comes in a plastic tub not a cup a soup. Whilst the La Zuppa soups are still fairly high in sodium the ingredients are all whole foods and are easily recognisable to the eye. They are supposed to be microwaved (I'm not a fan of nuking) however i would choose this brand over the others if you want a packet of soup with a long shelf life. Spiral instant miso soup sachets are also fantastic as a snack or meal accompaniment. These can usually be found at health food stores or in the health food or Asian food aisle at the supermarket.

2. Tinned soup
With the specials that are available on tined soups in the supermarket at the moment, you could be mistaken for thinking you were picking up a bargain. Financially yes, but from a nutritional perspective you would be wrong. As with the instant powdered soups mentioned above, tinned soups are appealingly easy to prepare and have a long shelf life. Unfortunately they also contain whopping amounts of sodium and ingredients you wouldn't expect to find in soup.

Again, you need to read labels carefully. For example, Campbells Chicken Noodle Condensed Soup says 'contains no added preservatives, artificial colours or added MSG' but a closer look at the label reveals ingredients like flavour enhancer (E635), food colour and mineral salts (E452, E450, E451, E500).

3. Soups found in the fridge/chiller section

If I didn't have time to make a soup, then a soup found in the fridge section of the supermarket would be my next best choice as they contain an ingredient panel closest to what i would use at home. Some of them can be a little plain or bland compared to the soups I make at home so I often use them as a base and add in more vegetables to increase the nutrient content.

Pitango
Pitango is one of the most recognisable brands of soup in the fridge section and you can find them at Woolworths, Coles, Thomas Dux and IGA. Pitango use fresh, mostly organic ingredients in their soups and come in all sorts of delicious tasting flavour combinations. The soups are also additive and preservative free, and there are gluten free and dairy free options.For more information visit www.pitango.co.nz

Darikay
A quick look at the Darikay soup range and it's easy to see that the range contains some fantastic, healthy options. Joe Nader from Darikay is extremely passionate about good quality soup. All soups are dairy free and gluten free (with the exception of the minestrone). There's even an option for vegans and those that are egg free. All soups contain no thickeners or preservatives.
Darikay encourage consumers of their soup to be creative! Tubs contain helpful tips: for example, Darikay red curry soup suggests adding the option of tofu or chicken to the soup to make it even better. Remember that chunkier, thicker soups like the these and the other soups in this category will keep you far fuller for longer compared to instant soups such as the cup a soups. Darikay soups are made using all Australian produce (though not organic), and are manufactured in Sydney's Marickville. They are available at IGA, Thomas Dux, Woolworths and other good food stores. For more information visit www.darikay.com.au

Naked Organics
Naked Organics are a New Zealand brand. They have a plant based philosophy and focus their efforts on sourcing where possible natural, organic & local ingredients that deliver on flavour. Examples include Pukekohe Potato and Leek soup and Ohakune Carrot and Coriander. The majority of produce used in the soups is organic. Naked Organics are also involved in sustainable organic farming and put money into training organic farmers in the Oceania region. Naked Organics soups are available from in Australia and New Zealand from Countdown, Woolworths, PaknSave, New World and also some selected health food stores. For more information visit www.nakedorganics.co.nz

Yalla
At the moment Yalla only do one soup: Harira. A hearty Moroccan-style soup with tomato, lentil and chickpeas, it ticks all the boxes. Yallas Harira is gluten and preservative free as doesn't contain any genetically modified ingredients. Other then its flavour, one of the best things about this soup is that it is pretty low in sodium compared to other soups (355mg per serving). Yalla products can only be found in NSW, check here for locations.

The Key Ingredients No website
The Key Ingredients is located in Balgowlah in Sydney's Northern Beaches and produces some beautiful home-style soups that founder Dean Jones says are "cooked the way he would want to eat soup at home". Jones focuses on simple ideas that taste good. All soups are made from fresh ingredients and are additive free. The biggest seller is the chicken noodle soup that Jones says is the perfect remedy if you're not feeling in top condition. Like the other soups in this category, these soups provide an easy, ready to eat option if you're short of time and need a healthy option at lunch or dinner. The Key Ingredients soups are available at Thomas Dux and speciality stores in the eastern suburbs and lower north shore of Sydney as well as Canberra.

Woolworths
Woolworths also offer some fridge style soups but don't assume they're health promoting just because they are in the fridge section. A quick look at the ingredients panel in Woolworths Tomato, Lentil & Smokey Bacon soup and you will discover smoke flavour, emulsifier, canola oil and food acid. Why consume these nasties if you don't have to?

4. Home made soup
I think you'll agree that nothing beats homemade soup, both in terms of flavour as well as nutritionally, particularly if you make your own stock. Never made your own stock? Once you've made your own stock you'll be amazed at how different it tastes from shop bought stock. Why not try this vegetable stock from the Food Coach.

Lastly, while it is hard to beat a homemade stock, ones from The Stock Merchant come pretty close. They work with local small-scale producers who provide them with free range chicken bones, grass fed free range beef bones, sustainably harvested shellfish and organic vegetables and herbs.

Have i missed any great soups or stocks that you think we should know about or do you have a great soup recipe to share? Leave your comments here.


Lisa Costa Bir is a naturopath with a Bachelor of Applied Science in Naturopathic Studies. She is passionate about good quality food and maintains a clinical practice in South Sydney.
Comments
Paula
May 20 2012 8:32AM
Can you freeze homemade stock??
Lisa Costa Bir
May 20 2012 8:38AM
Hi Paula,

yes i freeze home-made stock (and soup) all the time and it's fine in the freezer for ages.
Lyn
Aug 1 2012 4:54PM
I tried some La Zuppa minestrone soup for lunch today, and within half an hour I felt as though I'd been hit by a Mac truck. I suspect it might contain MSG (631). I didn't think to check the label before putting it in the fireplace. Can you tell me if it contains MSG please.
Add your comment
To post comments you need to be a member of The Food Coach club. Membership is free, so click here to begin posting!
If you are already registered, or are already a member of The Food Coach Club, simply enter your username and password below to begin commenting.
«Forgotten your password? Click here»